Here I am :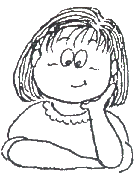 As you might know, my name is Icha Atmari. I'm an Indonesian, living in the capital of Indonesia: Jakarta. My parents are Javanese, but I was born in Bogor, among the Sundaneses.
After passing the high school in Bogor, I studied in Tarakanita Secretarial Academy, Jakarta. If you haven't known, that's a college for female only. With busterious girls as the students. But don't worry, I'm nice, indeed :).
Now I'm working as a secretary in Sahid Group. It is located at Jl Sudirman, Jakarta.
Then the hobbies. What should I say .... I love reading any books. And, I love music too. My favorites are David Foster, Peter Cetera, Jon Secada, etc-etc, and the most adorable : Bon Joviiiiiii!!! Ouch.
By the way, at present I'm studying french. I attend a course on CCF. I don't know why, but I like to learn foreign languages. If only you could be my sparing partner...
OK, this is the last paragraph about myself. What else. I have an idea to put my picture here, but still having no idea on the lay out. OK, temporarily, I put in on the Fly Away menu.
And, don't hesitate to contact me [click on the mailbox beside]. And, pretty please, don't forget to sign my guest book. A bientot !
---
Copyright © Icha Atmari 1997.